Taylor Wimpey East Scotland appoints new MD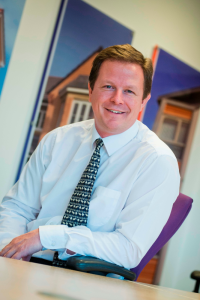 Taylor Wimpey UK, one of the UK's largest homebuilders, has appointed Peter Matthews as managing director for its East Scotland business.
Mr Matthews, is based at Taylor Wimpey's Dunfermline office, and will lead the business as it strives to build on its operations in key locations such as Fife, Edinburgh, the Borders and the Lothians.
Peter Matthews joined Taylor Wimpey in 2006 and has held a variety of senior management positions including chairman of Taysec Construction (Ghana), managing director of Taylor Wimpey's homebuilding business in Gibraltar and most recently managing director of Taylor Wimpey's business in Newmarket.
Prior to joining Taylor Wimpey, Peter enjoyed spells at Mobil Oil, Reuters and RAC. He holds an MBA from INSEAD, France.
Taylor Wimpey East Scotland is already a major force within the industry as Peter Matthews comments: "Taylor Wimpey East Scotland is a significant player in the Scottish homebuilding industry. So my vision is to build on this region's success, and the strength of the current team in Dunfermline, and for us to be the leading residential developer measured by creating value and delivering quality right across the east of Scotland for new home buyers and local communities.
"The business, and indeed the industry, continues to face many challenges which include barriers to growth in new housing supply, affordability and sustainability.
"However, it's an exciting period to become part of the Scottish homebuilding industry and I'm confident that we can face these opportunities head-on!"
Peter's extensive business knowledge and homebuilding experience gives him a clear insight into the challenges facing both the industry and the business over the coming years as Andy Wyles, divisional managing director for Taylor Wimpey in Scotland adds: "I'm delighted to welcome Peter to head up the management team of Taylor Wimpey East Scotland. It's an exciting time for the team and there are many challenges ahead. However, their vision for the business and to be the developer of choice for new home buyers will sit at the core of everything they strive for."
comments powered by

Disqus