Award-winning site manager scoops another accolade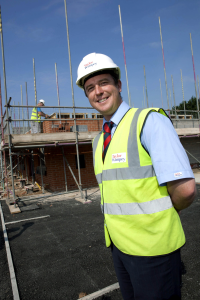 Leading home builder Taylor Wimpey is celebrating yet another award win after its Bridgwater-based site manager scooped an NHBC (National House Building Council) Seal of Excellence award.
James Parkhouse has been recognised as a top site manager by the industry for his high quality craftsmanship, attention to detail and standards at Taylor Wimpey's Wembdon Grange development in Bridgwater.
The site manager had previously won a Pride in the Job Quality award for his dedication to building high quality homes for new home buyers, seeing of stiff competition from more than 13,000 entries from across the UK. And now James has succeeded in the next round of the competition, earning him a highly contended Seal of Excellence award.
Speaking on his award win, James said: "I'm delighted to be recognised once again by the NHBC for high standards in house building. Pride in the Job is very well respected but the Seal award is going that one bit further. Winning an award like this is testament to the hard work and dedication of the whole site team and it is exceptional to have achieved this within the first 12 months of launching the development. I'm absolutely over the moon."
Richard Goad, regional sales and marketing director for Taylor Wimpey, added: "We are extremely committed to building homes to the highest standard of craftsmanship at Taylor Wimpey and we pride ourselves on our excellent level of customer care. It's a fantastic achievement that this dedication has been recognised by the NHBC. Well done James for yet another well deserved award win."
Seal of Excellence Awards are presented to the top site managers selected from the Quality Award winners. It is the only awards scheme that recognises the significant contribution of site managers in new home construction and has been instrumental in raising the build quality of new homes in the UK for over three decades.
Taylor Wimpey was also awarded a trio of prestigious industry accolades at the 2012 Housebuilder Awards last week. The company was crowned Large Housebuilder of the Year and also achieved joint first place in the Best Product category for its innovative 'Room in the Roof' system, developed in conjunction with Prestoplan. Taylor Wimpey was also Highly Commended in the Marketing category for its Mortgage Myths and First Time Buyer Guides.
The properties at Wembdon Grange comprise of two, three and four bedroom homes, with prices starting from £164,995. Taylor Wimpey is currently offering a variety of incentives to help both first and second time buyers at Wembdon Grange, including Part Exchange, NewBuy and the popular FirstBuy scheme.
FirstBuy supports first time buyers who could not otherwise afford to buy because of the large deposits now required by mortgage lenders. It works through a joint loan of 20% from the Homes and Communities Agency (HCA) and Taylor Wimpey, which means that eligible purchasers only need put down a 5% deposit and obtain a 75% loan-to-value mortgage. The loan is repayable at the end of the 25 year mortgage term or when the property is sold. To be eligible, purchasers must be first time buyers and the total household earning should be less than £60,000.
NewBuy, which is available on brand new properties up to the value of £500,000, means that credit-worthy first time buyers may only need to save a 5% deposit before they can get on the property ladder. Home movers with limited equity in their existing house will also benefit from the increase in availability of 95% loan to value mortgages.
For more information on the schemes and homes available, visit the sales and marketing suite which is open daily from 11am until 5pm.