Banish winter worries with McCarthy & Stone in sale and Altrincham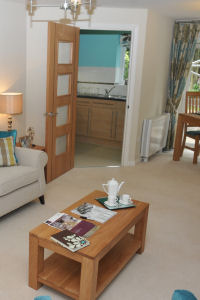 As the country anticipates another cold snap, for many older people, the crisp mornings mark a season of worrying. Heating the house, leaking roofs, frozen pipes, and leaves to clear from the gutters - the list of winter jobs goes on. If you are on your own, or are struggling to cope with the maintenance of your home, it can be daunting and costly to get through the winter.
A Later Living apartment at Michael Court in Sale or Speakman Court in Altrincham could be the answer you are looking for, as McCarthy and Stone's Regional Sales and Marketing Director, Steve Secker, explains: "If the thought of another winter in your current home is worrying you, but you hate the thought of giving up your independence, then we can help.
"Our developments not only offer new build, privately owned retirement apartments for the over 60s they also have managed exteriors and facilities - meaning no roofs, leaves or pipes to cause problems. However, you still retain ownership of your property, have your own front door and can continue your life as independently as you did before."
For some, winter brings a different problem. No matter how sociable and confident you are, when the weather stops you from getting out of your home you can become isolated. McCarthy and Stone's retirement developments can help prevent this too.
"Moving to a retirement development can be the perfect solution for anyone living on their own in later life to combat loneliness and isolation," adds Steve.
"For many of our purchasers who would have become housebound and isolated during the winter months, it's a revelation. They can pop into the shared lounge any time of day and find someone to have a chat with. All our developments have regular social events and coffee mornings for those who wish to attend and, as purchasers don't have to tackle the icy streets, these continue throughout the bad weather, meaning you are never cut off."
In addition, while rising energy prices are a concern for everyone, the over 60s are particularly vulnerable to hikes in fuel bills.
Steve continues: "Many of our prospective purchasers currently live in larger second hand properties which are expensive to run. By moving to a new McCarthy & Stone property, homeowners can benefit from a range of energy saving features as standard, such as double glazed windows and patio doors, cavity wall insulation and low energy light fittings. As our research shows, these features make modern homes significantly more energy efficient than older properties, leading to dramatically reduced fuel bills."
With over 35 years of experience, McCarthy & Stone has become Britain's leading provider of retirement apartments, having built more than 45,000 apartments across 1,000 different schemes.
Michael Court and Speakman Court comprise a stylish selection of one and two bedroom retirement apartments specifically designed for later life. Facilities include a shared lounge, guest suite, laundry room and a lift. A dedicated house manager ensures the smooth running of the development and a security entrance system plus 24-hour emergency call points provide peace of mind for both residents and their families.
In addition to offering age exclusive apartments, the retirement developer also provides a range of financial services, including a pension annuity service, equity release, legal services and guaranteed funeral plans.
To find out more, visit Michael Court on Oakfield in Sale and Speakman Court on Hazel Road in Altrincham, Tuesday to Saturday from 10.30am to 5.00pm.