First Yorkshire family purchases home with Government's'Help to Buy' scheme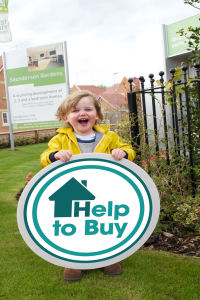 The newest residents at Barratt Yorkshire West's Saunderson Gardens development are the first in the county to secure a new home for 75 per cent of the purchase price under the Government's new Help to Buy scheme.
First time buyers, Alexandra Robertson, aged 30 and her husband Andrew, aged 29, had been renting in Huddersfield and desperately wanted to make the move into a home of their own, before the imminent arrival of their second child, when they heard about the new Help to Buy scheme from friends.
The Robertsons were excited to find out that they could take their first step onto the property ladder, with just a four per cent deposit as well as access to low mortgage finance. The couple looked at developments that offered the scheme and immediately fell in love with Barratt Yorkshire West's superb Saunderson Gardens development in Penistone.
Alexandra and Andrew loved the beautiful house styles - traditional properties with all the luxuries you'd expect in a modern home. Close-by are a fabulous range of amenities, including great schools and open green spaces - a must for two year old Jude and their baby girl who is due in a matter of weeks.
On their first visit to Saunderson Gardens, they were welcomed by Sales Adviser Gail who helped them with the application process for the Help to Buy scheme and set up meetings with mortgage advisers to make the process as quick and easy as possible.
The Help to Buy initiative, launched on 1 April, dramatically improves the prospect of owning a home or moving home as it reduces the deposit required to just four per cent and also enables qualifying customers to access low cost mortgage finance. The scheme provides new build homebuyers with the prospect of a 20 per cent equity loan from the Government, with no interest payable for the first five years.
Barratt is offering the Help to Buy scheme on all its properties, up to £600,000 - including those in West and South Yorkshire.
Alexandra Robertson, a Civil Servant said: "We are thrilled to be living in our dream home at Saunderson Gardens, especially in time for the arrival of our second child. We have been in rented accommodation for such a long time and have struggled to raise a ten per cent deposit to buy a home of our own.
"When our friends told us about the scheme, we were excited to find out that we were eligible and that it was so easy to apply.
"This whole process has been brilliant and the sales team arranged everything from financial advice, to meetings with solicitors, making the whole buying process completely stress free."
"We are sure to recommend Barratt and the Help to Buy scheme to anyone looking for a new home."
Gail Slack, Sales Adviser at Saunderson Gardens said: "We are delighted that the Robertsons were able to take advantage of this fantastic new scheme and move into their dream family home.
"Help to Buy is sure to make a huge difference to many more would-be homebuyers who can afford the monthly mortgage repayments on a new property, but not the hefty deposit.
"We've been receiving a great deal of interest for this exciting initiative since its launch, so anyone hoping to secure their ideal property for 75 per cent of its full list price should pay us a visit today."