FirstBuy extension will help more potential buyers at Cannons Wharf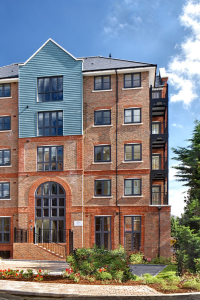 Thanks to an extension of the FirstBuy scheme for a further two years, even more home buyers will be able to move into a new Redrow home for less.
FirstBuy is an incentive which cuts the initial cost of owning a brand new home by 20% and is available on selected apartments at Redrow's Cannons Wharf development in Tonbridge.
The contemporary homes at Cannons Wharf are bright, spacious and well planned, with open plan living areas, essential storage space and well specified kitchens and bathrooms.
The Government's recent announcement that it will fund the FirstBuy scheme for longer will enable Redrow Homes to offer the valuable help to more potential buyers at the development.
Just last week the coalition Government committed an additional £280m of funding for the scheme, extending it a further two years until March 2014, in a bid to do more to help first time buyers.
Kerry Jenkins, head of sales for Redrow Homes (Eastern) said: "This announcement is fantastic news for first time buyers up and down the country. We have found the FirstBuy scheme incredibly popular with Redrow homeowners, who may have not been able to afford a deposit without it.
"The extra funding and extension to March 2014 will help a great deal more potential buyers take that vital first step onto the property ladder. It is so easy for people to become stuck in a rental trap, but now more and more will have the pleasure of holding the key to their first home."
FirstBuy is available on selected apartments at Cannons Wharf. Using FirstBuy, a two-bedroom apartment, usually costing £194,995:
Can be bought for only £155,996
With a deposit of as little as £7,800 (4%)
The outstanding balance is covered by an equity loan, jointly funded by Redrow and the Homes and Communities Agency.
The loan is interest free for five years and can be repaid when the home owner has more funds available.
To be eligible for FirstBuy customers must have an annual household income of less than £60,000 and be first time buyers or returning to the housing market after a change of circumstances.
Cannons Wharf has been a popular choice for professionals, couples, investors and downsizers who want to be within 35 minutes commuting distance of London from the nearby train station. It's also within easy reach of the M25 and M20 via the A21, providing great links to the capital and the coast.
The development is in an ideal location thanks to Tonbridge town centre, with all its amenities including a superb selection of shops, cafes, restaurants and supermarkets, being just a short walk away.