Independent living with McCarthy & Stone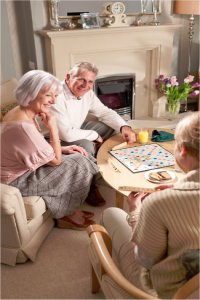 Are you over the age of 60 and craving a more relaxed lifestyle in a low-maintenance home that you continue to own? Perhaps you're concerned about the prospect of looking after your large family-sized home as you grow older?
If you dream of moving somewhere smaller so that you can start making the most of a hassle-free and independent later life, then worry no more, because McCarthy & Stone is offering just the solution at its forthcoming Later Living development in Whitfield.
Currently under construction on Manley Close, the attractive collection of 32 stylish properties has been specifically designed for those reaching their later years.
By providing reduced maintenance and property administration, Later Living in Whitfield will give its residents more time to embrace the possibilities of later life. Fitted with state of the art safety and security features, and with a range of communal areas and facilities, those opting for Later Living will also benefit from greater peace of mind and companionship, while being safe in the knowledge that they still own their own home.
Sharon Callcut, regional marketing manager for McCarthy & Stone explained: "Later Living encourages its residents to be as independent as they want to be. Whether you simply want to free up spare time by getting rid of the maintenance burden your old house might pose, or, you're just concerned about what the future might hold, downsizing to Later Living could be the solution for you.
"We know that as people get older their needs might change, so although Later Living offers a great place to relax and enjoy retirement, it is also purpose-built to make life easier by still providing a number of inherent age specific design features."
These features include 24 hour emergency call points, electrical sockets at a raised height to reduce bending, a camera entry system, easy grip lever taps in the bathroom and kitchen and energy efficient heating.
A communal lounge, a hotel style guest suite and landscaped gardens, all aid towards a real sense of community, and offer the perfect place to make new acquaintances with like-minded individuals in sociable and stylish surroundings.
"Private apartments are fully equipped with all mod-cons, plus because of the in-built camera entry system, they are completely secure," adds Sharon.
"This means that should you want to go away on holiday, spend a weekend with friends and family, or simply pop out for the day, you can lock up and leave, safe in the knowledge that your property and possessions will be just as you left them when you return.
"By introducing Later Living in Whitfield, we are offering over-60's who live locally the opportunity to live their later years in the way that best suits them."
Construction of the Whitfield development is expected to commence this Autumn.
With over 30 years' experience in the later living sector, McCarthy & Stone currently has nearly 150 selling developments across the UK, each of which is designed to promote an active and independent lifestyle for those aged over 60.