Launceston retiree wins national prize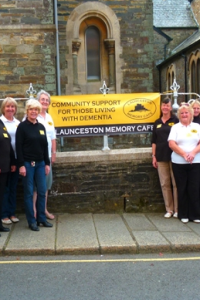 Cornwall retiree, Cym Downing, has secured her position as one of the UK's most extraordinary retired people by claiming the prize for achievement in community work in the final of the 2012 National Retirement Awards, run by the UK's leading retirement housebuilder, McCarthy & Stone.
Having previously battled stiff competition from fellow nominees to be announced as the South West regional champion back in June, Cym, from Launceston was declared as the national community champion by the judging panel. The category, which was designed to honour those who make a real difference in their neighbourhoods and local community, featured a number of deserving recipients in the final round of judging, but it was Cym's commitment to developing and running the first ever Memory Café in Launceston that saw her finally clinch the prize.
Now in its fifth year, Cym was inspired to launch the Launceston Memory Cafe following her mother's battle with Alzheimers. Aimed at providing people who are affected by memory problems due to Dementia with a free and regular service to help and improve their quality of life, the cafe now offers its visitors the opportunity to relax and unwind in a supportive and nurturing environment.
Staffed by trained care volunteers, the cafe is as much about the carers as it is about those with the condition. It helps to give each of its visitors the opportunity to share their mutual experiences, and make the most out of life.
Since its initial launch, the concept of the Memory Cafe has proved so successful, that there are now 24 branches across the county.
Shane Paull, Regional Managing Director for McCarthy & Stone, said of Cym's win: "We have had the pleasure of meeting some truly inspirational individuals throughout the course of this competition, but Cym's exceptional contribution to helping her community tackle the issues caused by Dementia really her stand out from the crowd. We couldn't have wished for a more deserving winner."
The National Retirement Awards were aimed at honouring individuals or groups of people aged 60 or over, who have done something worthy of recognition, excelled in their field or have gone all out to help their local community.
As the winner of the national community award, Cym will be presented with a cheque for £500.
McCarthy & Stone provides a range of age-exclusive developments that are specifically designed for later life. While ensuring the continuing independence of retaining home ownership, each stylish property also offers reduced maintenance, giving residents more time to embrace the possibilities of later life. State of the art safety and security features and a range of communal areas and facilities also provide greater peace of mind and companionship.