Linden Homes' York development launch ploughed on despite the snow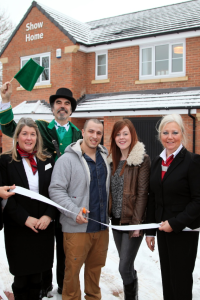 It was full steam ahead in York as the Golden Age of Rail was commemorated at the launch of Linden Homes' prestigious new development.
It was business as usual, despite the inclement weather, at the 1877 development in Ouseacres - named in tribute to the building of what in its heyday was the largest railway station in the world.
The development - which boasts a stunning selection of two, three and four-bedroom homes in a quiet corner of North Yorkshire - along with its fabulous showhome, received its official unveiling at the weekend.
Special guests Lauren Foreman and Robert Brotherton - who were celebrating their first day in their new home at the development - were invited to cut the ribbon alongside world-famous town crier Michael Wood, who is swapped his traditional attire for that of an old style railway guard.
And helping to bring a touch of warmth to the wintry proceedings with some livemusic was Matthew Smith's Goodtime Jazz Band.
A number of reservations from plan have already been made at 1877, where the homes will boast designer kitchens and bathrooms, energy efficiency fittings and the latest hi-tech wiring for home entertainment and communication are among the many benefits.
Current prices start from £154,950.
The development is perfectly positioned, just a four-minute drive from the railway station and less than 10 minutes from bustling centre of York. 1877 is also within easywalking distance of the town centre.