New East Midlands properties offer energy savings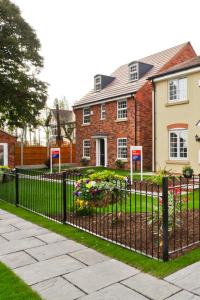 Taylor Wimpey East Midlands is urging home-hunters to discover how they can save money by choosing from its wide selection of new homes for sale in Nottinghamshire, Leicestershire, Derbyshire, Northamptonshire or Lincolnshire.
East Midlands property-seekers can benefit from big savings on their utility bills whilst at the same time being kinder to the environment - by choosing a brand new energy-efficient home from leading homebuilder Taylor Wimpey.
All of the East Midlands homes for sale at Taylor Wimpey developments across the region feature a wide range of energy-saving measures as standard, including highly efficient boilers and central heating systems, low-energy lighting and appliances, plus high-quality double glazing and insulation.
Taylor Wimpey East Midlands homes built today require only around 20% of the energy needed to heat a similar type of property built in the 1930s, and a third of the energy requirements of a similar home constructed during the 1980s.
This means that anyone upgrading from an older home to a new Taylor Wimpey property for sale in Leicestershire, Nottinghamshire, Derbyshire, Lincolnshire or Northamptonshire can expect to enjoy significant savings on their gas and electricity bills while reducing their carbon footprint at the same time.
All of the leading homebuilder's new homes for sale in the East Midlands include water-saving features such as dual-flush toilets, flow-restricted taps and shower heads, which can help to reduce bills for properties using water meters.
Dominic Harman, Managing Director of Taylor Wimpey East Midlands, says: "All of our customers will find that it makes perfect economic sense to choose a brand new Taylor Wimpey home, thanks to the wide range of measures built in to every single one of our properties which help to reduce both energy and water consumption costs.
"We have a superb selection of newly designed high-quality homes for sale at developments across the East Midlands, from stylish apartments through to spacious family houses. Would-be buyers should get in touch with us today to find out more about how we can help them move to a brand new Taylor Wimpey home to help save money on their monthly bills."