Sarah Beeny - interview: 'I have been very lucky'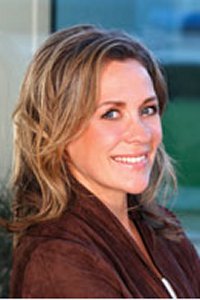 While we marvel at her knowledge of all things property and her ability to connect with viewers for more than a decade, Sarah Beeny insists she is no celebrity and her TV success is down to good fortune.
She is without a doubt the most well-known female face in the UK property industry. And in the cut-throat business of television where there are countless others waiting to fill your shoes, Sarah Beeny has managed to retain her popularity for more than a decade. Since starting out as presenter of Channel 4's Property Ladder in 2001, Sarah has gone on to front several other popular property-based shows including Streets Ahead, Britain's Best Homes, Beeny's Restoration Nightmare and Help! My House Is Falling Down.
Not only has the canny property developer managed to have four children in between all this, she is now just as well-known for her business acumen. Sarah has two successful internet businesses – the dating website My Single Friend and the property buying, selling and renting website Tepilo. It's a busy life, but we managed to grab some of Sarah's precious time to get the lowdown on…
…the UK's resilient property market
'I'm not surprised that in London it remains strong. A lot of it has to do with the state of the Euro – many European investors are putting their money into London because they see it as a safe haven. There is a lot of money out there and investors obviously need somewhere to put it. If I had to choose between Greece and the UK, I know which of the two I would opt for!'
…overseas property
'I don't own a property overseas, such as a holiday home. I don't meet many people who own property abroad and don't regret it. 'It can't be much of a holiday to go to your own home overseas and be seeing to repairs and maintenance for the duration. It must be exhausting, plus you have to go back to the same place all the time. It just doesn't make sense to me.'
…staying true to her property roots on TV
'It's not deliberate that I only present property-based TV shows, but I guess it's what I know best. One of my shows, Village SOS, was more about business and I really enjoyed that side of it, too. 'I've been offered the opportunity to appear on a whole load of reality drama shows, but I'm not interested. I've been offered some amazing gigs, too, to present shows that involve a lot of travel, shows that I would love to be part of, but then I have four little boys at home to look after and I couldn't just take off like that. 'I was once offered the chance to front a television show about homelessness, which would have meant living rough with the homeless to highlight their plight. I would have loved to do it, but had a six-week-old baby at the time and just had to say no. 'TV takes a secondary role to everything else in my life. Family comes first for me, and then business takes up a lot of my time, too.'
…making mistakes
'With property, you will always make mistakes as you go along – and there will always be another fresh mistake to make. As long as you don't keep making the same one over and over again, you will be fine.'
…the UK's booming rental sector
'Many people struggle to save enough for a deposit to get on the property ladder – we should do away with having to save before buying. 'I actually think that there's a good argument against buying – you are tied to a mortgage and are basically renting your home from the bank. Plus, when you own, you are responsible for your own repairs. When you rent, you can just move. 'People are obsessed with owning property in the UK – it's not a social crime to rent a house. A cynic might even suggest that the government has manipulated the housing market for its own benefit.'
…Tepilo.com and what she really thinks of estate agents
'My property website for buying, selling and renting homes is doing really well and there are exciting plans for the future. 'I think that estate agents are really important. Some estate agents have a very deep knowledge of their local property market, and some people are far too busy to deal with the phone calls. 'If you have a more standard home though, you can research sales history online and save yourself up to 3% commission plus VAT on the sale. On a house that's worth £220,000 that could be £7,920! 'I personally believe that nobody can really "sell" a property to anyone. You can sell an extra chicken if you are a market trader, but you can only sell a property worth thousands of pounds to someone who wants to buy it. 'I think that estate agents are needed for commercial, retail and more complex residential properties, but at the simpler end of the market, it's very possible to do without. 'My website, Tepilo.com, has all the information and tips you need to get yourself a sale.'
…Mysinglefriend.co.uk
'This website of mine is going great guns. Lots of exciting things are being planned for the end of the year. Thousands of people have met their match through the website. 'I hope all singletons and people out there with single friends will enjoy the free magazine with this issue.'
…celebrities
'The word "celebrity" amuses me. I think that the term has become cheapened over the years. People like Joanna Lumley and Dawn French – who I think are iconic media personalities – are rather more than "celebrities" because nowadays, if you have been on TV for 10 minutes, you're a celebrity! These people can't be compared to Hollywood's legendary icons. I don't think we should mix old-fashioned Hollywood glamour with today's notion of "celebrity". 'While I'm clearly not in the media icon camp, I'm not sure it's wise to go out of your way to court media attention and not be able to keep it all in perspective.
'The minute you begin to need fame, it becomes dangerous. While it's just a bit of fun, it's fine. I think you need to be able to do something. Either be a true broadcaster and presenter like Terry Wogan or a top chef like Jamie Oliver. They are successful because they are good at what they do. Jamie Oliver loves cooking and that is what people are interested in seeing him do.
'Sacha Baron Cohen, too, is great at his brand of comedy – I love his humour – he is pretty outrageous. But you don't see him popping up all over the place, in magazines and on the TV for no particularly good reason. Ultimately, he does what he does and then he disappears until the next big project.
…the secret of her ongoing TV success
'It's hard to say why I have been on TV for so many years. I think part of it is down to the fact that I quite like people. That helps. I like the people I meet who appear on TV shows as well as the people who make them. I had never mapped out a career in TV, it happened by accident. 'I got chatting to a stranger at a mutual friend's hen party. The following day I received a call from the lady's sister. It turned out to be an invitation to try out as the face of a new series following the fortunes of amateur property developers. I pondered over whether I should go or not, and in the end my late stepmother pointed out that you should say "yes" not "no" to life, so I did. Simple as that. 'I think I have been very lucky. I don't think that my knowledge of property is amazing – I always think that whatever I know about the market, surely everyone else knows, too.'
…her family
'My boys always come first. There's Billy, who's eight, Charlie, who's six, Rafferty is four, and Laurie is two. When you say their ages like – two, four, six and eight – it sounds like I meticulously planned my family, but come the next birthday, it goes out of sync again. 'Four kids are a handful, but they are great fun and secretly I wanted another one straight after Laurie was born. It was Graham who put his foot down. I tried to persuade him for 18 months after Laurie's birth, but he was strong about no more. 'Now that Laurie is two, I have moved on. It would be complicated to have a gap now. And I have cleared my house of all baby stuff so there can't be any more anyway. 'I try to give all my children their own bit of time every day, but with four it's quite tricky. 'I try very hard to have a clear gap between work and family – I am perfectly happy to switch all my phones off at certain times when I am with my family so that I cannot be contacted by the outside world.'
http://www.athomemagazine.co.uk/sarah-beeny/6219-sarah-beeny-interview-i-have-been-very-lucky