Smiths 'pleased' with Barratt Homes part exchange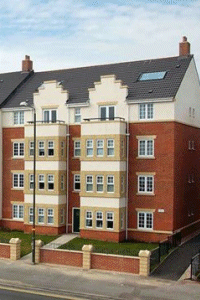 A Chesterfield couple have landed themselves a new three-bedroom house as part of Barratt North Midlands' part exchange scheme.
The property is located closer to Chesterfield than their former home in New Whittington on the homebuilder's The Spires development.
Jonathan and Katherine Smith wanted to be closer to Mr Smith's workplace.
Mrs Smith claimed that the Spires development "ticked all the boxes".
She said she was happy with "the location, number of bedrooms, a garage and of course the actually design of the home, but when we found out about part-exchange that really sealed the deal".
"Part-exchange made our move a lot less stressful and we didn't need to worry about the possibility of a broken chain as Barratt were a guaranteed buyer," Mrs Smith added.
James Poynor, sales director at Barratt North Midlands added that part exchange is one of the most popular schemes for making house purchases and alleviates a lot of pressures.
Prices at the development start from £106,995, with a selection of one and two-bedroom apartments and three-bedroom houses available to purchase.
Earlier this month, Barratt West Midlands sales director Graydon Worthing said that there had been lots of interest shown in the homebuilder's Kensington Gardens development in Tyseley.