Successful launch at Jubilee Gardens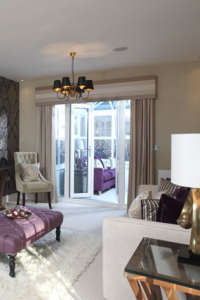 A prestigious new homes development in the pretty Bedfordshire village of Wootton is already exceeding all expectations - with seven sales before the showhome has even opened!
Househunters are snapping up early reservations at Jubilee Gardens, the latest luxury site by Charles Church Homes, taking advantage of the pick of the plots and pre-showhome prices.
Head of sales Claire Lambert said: "Jubilee Gardens is a superb development, offering a range of lovely homes in the heart of a popular village.
"When finished, there will be beautiful open spaces, a new school, walks and bridlepaths, new sports facilities and play areas, all within reach of the village amenities.
"But several people can't even wait for the showhome at the site to be launched this weekend. As soon as the marketing suite opened we received calls and visits, with buyers keen to be the first to select their dream home."
Jubilee Gardens, on Fields Road, Wootton, offers three, four and five bedroom contemporary and traditional family homes with prices starting at £250,000.
Claire added: "Buying a house before a single brick is laid might seem an odd thing to do, but for many people it is the perfect way to secure their preferred property at the best price. And, if you reserve early enough you can select fixtures and fittings from a range of Finishing Touches, ensuring your new residence really is the home of your dreams."
Kitchen units, flooring, tiles or accessories can be tailored to meet the individual buyer's taste, depending on the build stage of each house.
Charles Church is building new homes across Bedfordshire, Buckinghamshire and Northamptonshire.