Taylor Wimpey East Midlands supports charity scheme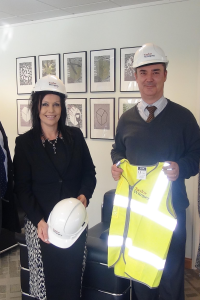 Taylor Wimpey, the leading housebuilder which is currently offering a range of East Midlands property for sale, is donating equipment to a charity building project in Africa.
A team of volunteers from Cambridgeshire will be taking part in a charity home-building programme in Malawi this July equipped with hard hats and high visibility vests from East Midlands new homes developer Taylor Wimpey.
The Ely College Sixth Form team includes GP Phil Harding, from Orchard Surgery in St Ives, who asked patient Nigel Higgins, a director of property firm Move with Us, if he knew anyone who could donate kit for the trip - and that's where the leading developer of new homes in the East Midlands stepped in!
The housebuilder uses Move with Us for Part Exchange and easymover property valuations at its developments of East Midlands properties, and was only too happy to donate 15 hard hats plus a set of high visibility vests for the project, which is run by international charity Habitat for Humanity (HFH).
Dr Harding says: "In Malawi the housing need is great with around 89% of the population living on less than $2 a day and typically in huts comprising mud and daub walls with a dirt floor, thatch roof and poor ventilation.
"HFH is working with communities to provide basic housing comprising of kiln-fired clay bricks on a solid foundation, glass windows, air vents for good ventilation and cement tile roofs.
"We will be working on an Orphans and Vulnerable Children's project in Salima, about an hour from the capital Lilongwe. We are required to take our own kit, including hard hats and other equipment, which is then left with the host project upon completion of the trip, so we are very grateful to Taylor Wimpey for the kind donation."
Lorraine McAllister, Part Exchange Manager for Taylor Wimpey East Midlands says: "Having a safe and clean place to go home to at the end of the day is something the majority of us here in Britain take for granted.
"As a company, we already work with charities which support homeless and vulnerable people in the UK, so we are delighted to be able to support the efforts of local people who are helping give those in Malawi a decent place to live."
To take part in the project each of the team members needs to raise £2,300 to cover the cost of the trip and help fund the Habitat for Humanity project in Malawi, as well as provide their own kit.
The houses which are built typically cost about £1,250 to build, which is paid back by the new home owner in the form of an interest-free loan. House recipients are also expected to provide up to 1,000 hours of 'sweat equity', helping to build further houses for others. Costs are kept low by the use of volunteer labour from the local community and international volunteers.
The students have been busy fundraising with a quiz night, an auction of talents and discos among the events organised.
This is the third such project that the college has participated in, with previous trips to Zambia and Romania.