Taylor Wimpey Kent supports Woodpecker FC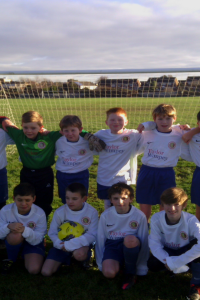 Youngsters at a children's football team in Hoo have received the support of Taylor Wimpey, a leading builder of new homes for sale in Kent.
Up-and-coming soccer stars at a youth football club in Hoo, Kent, are flying high after receiving the backing of Taylor Wimpey Kent.
The leading housebuilder of properties for sale in Kent has stepped in to sponsor the under-11s side at Woodpecker FC - donating £500 to kit the boys out with a brand new away strip.
With the Kent property developer's distinctive red and blue logo now adorning their new white shirts, team coach Steve Chapman hopes the Woodpeckers will now soar through their remaining fixtures of the season.
"Every so often at away games, we found ourselves up against opponents whose strips were the same colours as ours, because we had no alternative shirts," says Steve. "I contacted Taylor Wimpey and they very kindly agreed to make a generous donation to the club - enough for the under-11s team to get a lovely white away strip.
"The boys are over the moon with their new kit and it has given them a real boost, they love wearing it at matches. We're always looking to improve the equipment and facilities at the club, but it can be an expensive process, so we are extremely grateful to Taylor Wimpey for helping us take this important step forward."
Ed Owens, Managing Director for Taylor Wimpey South East, says: "When Steve came to me with the issue that he faced with the Woodpeckers, I was happy to say that Taylor Wimpey would help.
"As a local builder, we have a strong relationship with the community where we work, which is why we are happy to support a team like the Woodpeckers, who do so much for so many children."
Taylor Wimpey currently has a wide selection of new homes in Kent available at a range of developments.