Taylor Wimpey Midlands is open this Xmas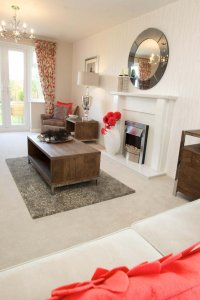 Property-seekers will be able to find their ideal place this Christmas at Taylor Wimpey developments of new homes in Worcestershire, Warwickshire, Birmingham, Shropshire and the West Midlands.
This Christmas, Taylor Wimpey Midlands is offering home-buyers a last-minute opportunity to treat themselves to the perfect present at developments of properties in Warwickshire, Worcestershire, Birmingham, Shropshire and the West Midlands.
The leading housebuilder is keeping open its developments of new homes for sale in Birmingham, Warwickshire, Worcestershire, Shropshire and the West Midlands until 5pm on 23rd December, so there's enough time for property-seekers to find their perfect home this festive season.
After the Christmas period, the Diglis Water, Warwick Chase, Swallows Nest, Lawley Farm and Highfield Gardens developments will reopen for business at 10am on Wednesday 2nd January, with the remaining Midlands homes developments reopening at 10am on Thursday 3rd January.
Anne Wallace, Regional Sales and Marketing Director for Taylor Wimpey, says: "Our sales staff will be busy working right up to the festive period so it's not too late if property-seekers want to secure their new home now - so they can relax this Christmas in the knowledge that next year they'll be celebrating in a brand new place!
"However, I would urge anyone hoping to find their dream home with Taylor Wimpey Midlands next year not to leave it too late as a third of the homes we're building in 2013 have already been snapped up by savvy buyers!"