Taylor Wimpey's commitment to Worcester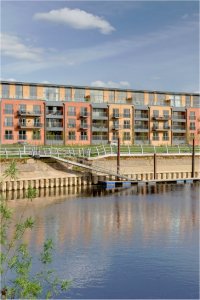 In addition to building high quality homes in sought-after locations, leading home builder Taylor Wimpey Midlands prides itself on playing a key role in supporting the local environments where it builds.
This objective is certainly being achieved at the company's beautiful Diglis Water development in Worcester, where the home builder is continuing to support the Green Infrastructure of the Diglis Basin.
Green Infrastructure, which has been developed by Worcester City Council, denotes the importance of planning and conserving green spaces and environmental features within and between towns and cities. The concept plays a vital role in the regeneration of Worcester's riverside, which is why Taylor Wimpey Midlands' Diglis Water, located on the banks of the River Severn, has been celebrated as one of the most imperative new build housing developments within the historic city.
Anne Wallace, regional sales and marketing director for Taylor Wimpey Midlands, explains: "We are extremely proud to be part of the economic and environmental regeneration of Worcester's riverside basin.
"Diglis Water not only boasts a stunning collection of houses and apartments, it also offers a desirable lifestyle which is part of our commitment to the Green Infrastructure masterplan. Residents and visitors to the area can take advantage of the picturesque riverside footpath and cycle way, make the most of the attractive green open spaces within the development and enjoy the Waterfront Park situated between Diglis Water and the River Severn."
Additionally, Taylor Wimpey Midlands has contributed to the adjacent nature reserve and has planted several semi-mature trees and shrubs to encourage further wildlife to the area.
Chris Dobbs, heritage and design leader for Worcester City Council, is part of the team promoting Green Infrastructure. He states: "Taylor Wimpey's Diglis Water is a leading example of how a new build development can use Green Infrastructure as it both harmonises with and enhances the local area. The team has sympathetically created a sustainable yet desirable place to live, as well as somewhere the local people and tourists can enjoy."
Among the new homes currently for sale, Diglis Water boasts a collection of one and two bedroom apartments and a selection of three bedroom townhouses. Prices start from £139,995.
Diglis Water, which has won an NHBC Quality Award and a Seal of Excellence Award, is situated where the Birmingham and Worcester canal meets the River Severn and has breathed new life into Worcester's riverside.