Taylor Wimpey Scottish team sleep rough for homeless charity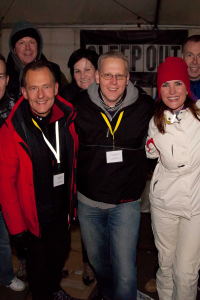 Thirteen people from Taylor Wimpey in Scotland swapped the comfort of their own homes for a night spent in sleeping bags and cardboard boxes, when they took part in the first ever nationwide Sleep Out in conjunction with youth homelessness charity The Rock Trust.
Last night Thursday -8th November - Taylor Wimpey's Scottish team including Andy Wyles, Steve Fowler, Karen Armstrong, Pauline Mills, Caroline Proctor, Audrey Ross, David Steven, Stevie Laurie, Nicola Spencer, Willie Burns, Graeme Smith, Stephen Andrew and Susan McDonald joined over 50 'Sleepers' at the event at Festival Square in Edinburgh in a bid to raise much needed funds for homeless and vulnerable young people.
Commenting on the experience, Andy Wyles, divisional managing director for Taylor Wimpey in Scotland said: "We're in the business of building houses, and having a safe and warm place to go home to at the end of the day is something the majority of us take for granted. We only had to spend one night sleeping rough, but this is the reality that thousands of young homeless people face on a regular basis, making the work that charities like The Rock Trust and Centrepoint does to help them absolutely crucial."
Andy adds: "Centrepoint is Taylor Wimpey's chosen national charity and we work closely with The Rock Trust as the organisation's partnership charity in Scotland so we were keen to be involved with this fundraising initiative. Taking part in Sleep Out has given us an insight into what homeless youngsters must experience, which makes us even more committed to supporting the fantastic work these charities do."
Kate Polson, chief executive for The Rock Trust said: 'Sleep Out is unique. Not only does it raise an amazing amount of money, it raises the issue of youth homelessness and gives a glimpse of what it's like to sleep out on the cold streets of Edinburgh.
"Young people are doing this every night without the protection of security, a canopy keeping the rain off and hundreds of friends supporting them. We are extremely grateful to Taylor Wimpey and everyone who took part in the Sleep Out. Their support enables us to give young people the help they need to live an independent and positive life. We are proud to be part of the first national Sleep Out and to bring this message home to so many people across the UK."
This hard-hitting event was held in partnership with organisations across the country, including Centrepoint and The Rock Trust and St Basils. Eight cities, including London and Edinburgh hosted their own Sleep Out 2012 events. With nine events in total, it is the first time that a national Sleep Out on this scale has ever been held. All nine events took place last night to raise awareness of youth homelessness, as well as vital funds for the charities involved. Together, the organisations aim to raise £500,000 nationally, and by joining forces they want to shine a spotlight on the issue of youth homelessness today.
To make a donation and for further information on The Rock Trust visit www.rocktrust.org.