Taylor Wimpey South Midlands helps local hospice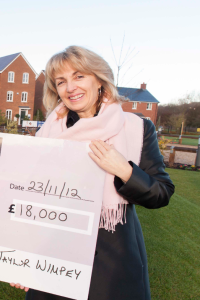 A Buckinghamshire hospice has received a generous donation from Taylor Wimpey, which has developments of new homes for sale in Milton Keynes.
Taylor Wimpey has chipped in with a sizeable donation towards a Milton Keynes hospice following the swinging success of a charity golf day.
The leading housebuilder behind the Willow Lake development of Milton Keynes property, Kingston Chase development of new homes for sale in Milton Keynes and the Oxley Gate development of property to buy in Milton Keynes raised £18,000 for Willen Hospice at the event.
Well over a hundred of the leading housebuilder's employees, suppliers and sub-contractors warmed up with a bacon sandwich before they teed off in teams of four for a round of golf and then celebrated - or commiserated - their scores at an awards dinner.
A charity auction, with prizes donated by the suppliers and sub-contractors, completed a hugely successful and enjoyable day's fundraising for the hospice.
Peter Gurr, Regional Managing Director for Taylor Wimpey Buckinghamshire, says: "We are immensely proud to have raised £18,000 for Willen Hospice at our golf day in September - such success shows the high esteem in which the charity is held by everyone who took part in the event."
The proceeds from Taylor Wimpey's charity golf day were handed over to Pauline Mitchelmore, Event Organiser for Willen Hospice, on Friday 23rd November at the leading housebuilder's regional headquarters in Milton Keynes, with all their staff in attendance for the cheque handover.
Peter adds: "It gave us all great pleasure to award the funds to Willen Hospice. When Pauline explained to us how far the £18,000 will go, we were given genuine insight into how important fundraising is to the hospice. It made us realise how lucky we are to be able to help such a worthwhile cause, one which is here to aid people in this community when they need caring assistance the most."