SmartNewHomes
New Build HomeBuy is a Government-funded scheme that helps people who would not normally be able to afford home ownership to purchase their own property.
September 2, 2014 00:00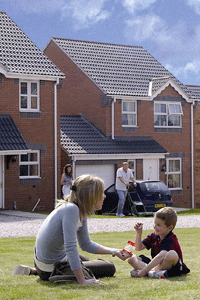 New Build HomeBuy is also known as shared ownership, or part-rent, part-buy, because it allows you to buy a share in your home and pay rent on the rest.
Shared owners do not share their homes with someone else; they simply share the ownership of it with a housing association.
The size of the share you buy is usually between 25 per cent and 75 per cent of the value of the property. However, this does depend on individual circumstances. Normally we sell 50 per cent shares, although smaller or larger shares may be available on some of our new developments.
Shared owners pay a monthly rent to us for the share that they have not purchased. There will normally also be a service charge to cover items such as building insurance, management and cleaning of any common areas.
Who is eligible for shared ownership?
Shared ownership is designed to help people who cannot afford to buy the type of home that they need.
In most instances existing council and housing association tenants and people registered for housing with the council are given priority but other people can also benefit from shared ownership.
Most shared owners are first time buyers. Others are people who have had to leave their owner-occupied home because of a relationship breakdown. Those who could not afford the cost of the shared ownership rent and mortgage cannot be considered either.
We will be unable to help you if you have had any arrears of rent in the last six months, or are already named on an existing mortgage or property deeds. Applicants on housing benefit will need to be assessed on a case by case basis before a decision can be made.
What are the income requirements?
We think it is important not to encourage people to take on shared ownership if they cannot realistically afford it. For this reason most housing associations will have minimum financial criteria which they ask you to meet.
Single applicants £17,000 per annum
Joint applicants £22,000 per annum
If you are able to put a large cash sum towards a purchase you may qualify with a lower income. Please remember that these figures are the minimum levels needed to get onto our shared ownership list. Purchasers for most of the new properties that we develop will need incomes in excess of the minimum.
Do I need savings?
To be accepted onto our shared ownership list you need savings. This money will be required to cover legal, other professional fees and stamp duty. The minimum amount required is £3,000.
Again, this is a minimum figure. If you were to buy a new property in a high value area, you would need to have access to additional savings.
What is "staircasing"?
Staircasing is when you buy more shares in your home. For example, if you have bought a shared ownership property and we each own 50 per cent of it, you can choose to buy more shares in your home. So if you decided to buy another 25 per cent of your home you would own 75 per cent of it altogether. You can staircase until you own your property outright.
Limited availability, don't miss out. Search for a development near you.
Some information contained herein may have changed since it was first published. SmartNewHomes strongly advises you to seek current legal and/or financial advice from a qualified professional.