SmartNewHomes
Still working from the kitchen table? Check out these homes with impressive offices and consider how they might work for you.
Working from home has now become routine for many of us thanks to the Covid-19 pandemic.
It may have taken a little getting used to, but many of us are now considering working from home more in the longer-term.
As a result, properties with home offices are more sought after than ever before.
Invest in the right home, and you could work in a space that's far more stylish and comfortable than any corporate office could be.
We've scoured our listings to find you the home offices with wow factor:
This Arts and Crafts home in the university town of Cambridge has the added bonus of a large, modern extension. The cosy study has wooden floors and walls lined with custom-built cedar bookcases. A charming fireplace in the corner, adds warmth and character to the room and when you're in need of inspiration you can look out at the garden, designed by award-winning landscape designer Janey Auchincloss.
Available via Savills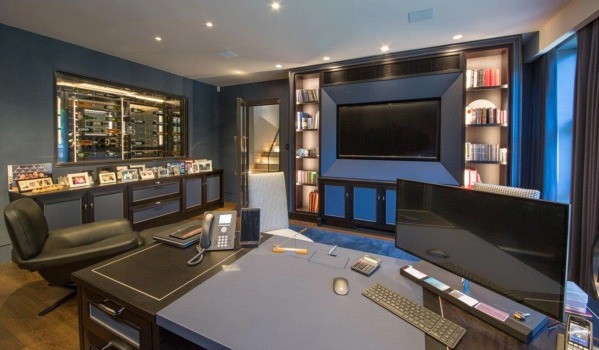 This sleek new-build has all the amenities you could dream of - including a chic home office. The bookcases are enhanced with dramatic lighting, and the combination of blue and navy decor adds a sophisticated edge. And when the working day is done, you can take a dip in the outdoor swimming pool, hit the tennis court or choose a bottle of wine to sip from the adjacent cellar to relax.
Available via Frank Knight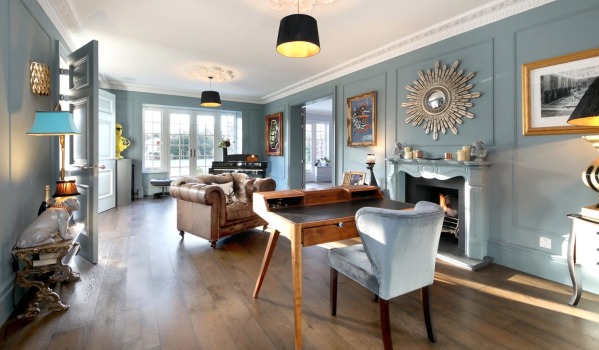 This stunning home has the ambiance of a boutique hotel. The grand library is painted in a soothing blue with panelled walls. It boasts a large fireplace and built-in shelving, with space for seating for when you need a change of scene. Patio doors open up onto the incredible gardens, with their sweeping lawns, mature trees and tennis court.
Available via Hamptons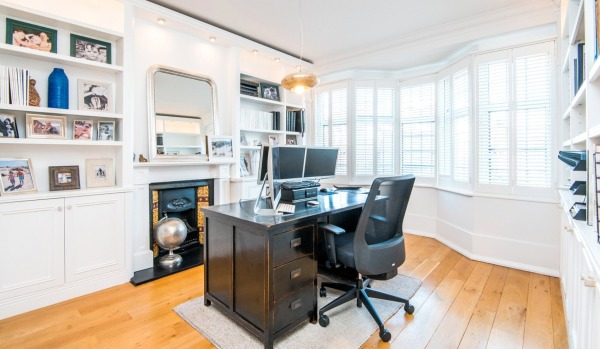 Light, airy rooms are the priority in this large house just minutes from the sea, and the bright and breezy home office is no exception. White walls, wooden floors and a large bay window evoke a calming atmosphere while sturdy bookcases and panelled cupboards give plenty of storage. A fireplace with antique patterned tiles adds a touch of warmth to the room.
Available via Keller Williams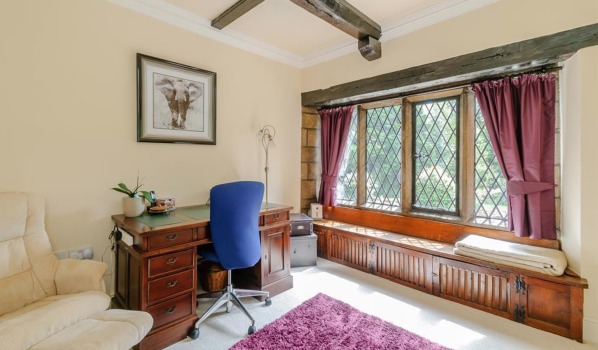 This one-of-a-kind home dates back to the 1920s and is bursting with unique touches that make it an inspiring place to live and work. The study conjures up an image of days gone by, with its traditional wooden beams and cornicing on the ceiling. Why not take a break from your working day to gaze out at the glorious gardens.
Available via Hunters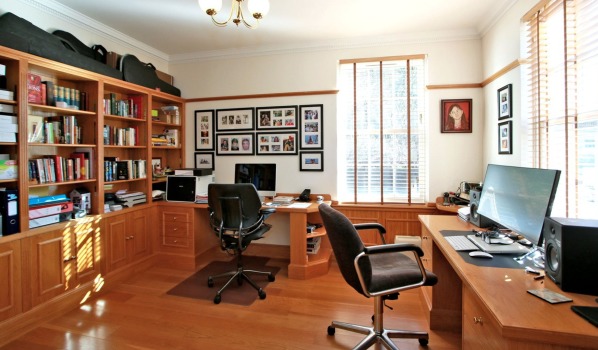 Style meets functionality in this polished home office. Built-in bookcases and storage cupboards keep the space neat and tidy. It has room for two large desks, so you can work alongside a partner. And when work is over you're just ten minutes away from the golf course!
Available via Aberdein Considine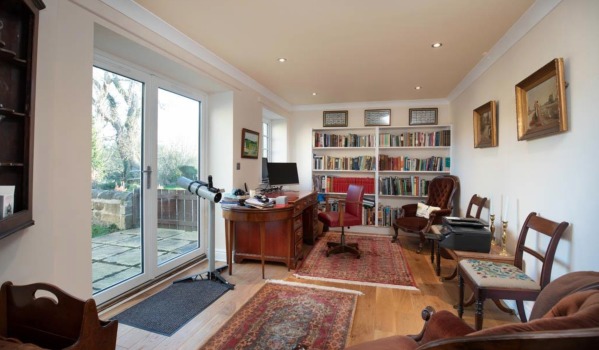 This country house nestled on the edge of a Northumberland village has beautiful views making it the ideal place to work in peace. Inside the home office you'll find ample space to set up all your technology and arrange your books, and there is also space for some informal seating. Underfloor heating will keep you warm in the winter, but come summer you can fling open the patio doors and bring the outside in while you work.
Available via Knight Frank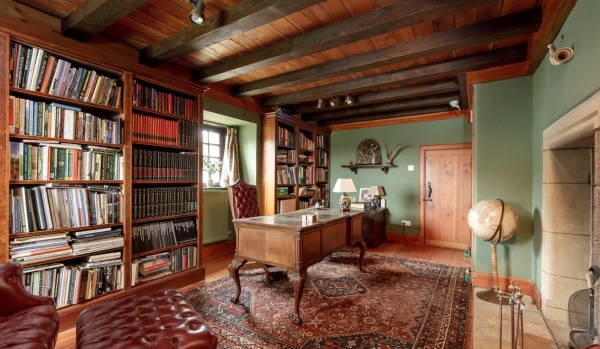 Ever fancied living and working in a castle? Your dreams could come true in this 14th Century historic property, complete with the grandest study imaginable. The wooden floor, roof and beams stay true to the property's heritage and there is ample room for showing off your book collection. The imposing stone fireplace is magnificent yet inviting - this is surely the ideal place to sit at a desk and let your creativity run riot. Plus, when you need a breath of fresh air at lunchtime, there are sprawling castle grounds to roam.
Available via Savills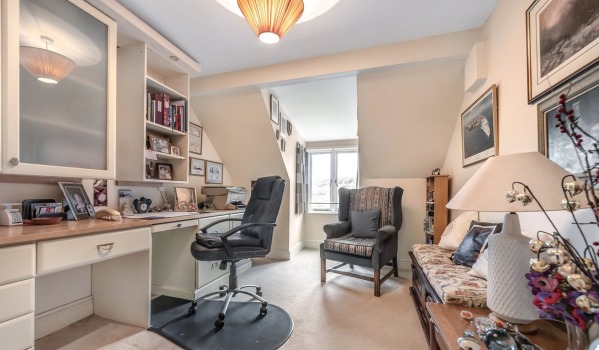 Inside one of the most iconic buildings in the ancient city of Bath, this three bedroom flat is spacious enough to combine work and leisure. The luxurious home office is decorated in sophisticated neutrals for an ambience of tranquility as you work. Built-in shelving and desk space make the most of the room available and ensure that you can tidy everything away at the end of the day.
Available via Fine & Country
How to search for homes on Zoopla
Register with Zoopla to get instant email alerts for your preferred types of property - you can save as many searches as you want.
We've got a range of handy tools to help you find exactly what you want. Take our Advanced Search tool - it allows you to find homes with specific features, such as 'thatched roof' or 'bifold doors'.
And if you need any help decoding property jargon, don't forget to check out our jargon-buster.
You may also be interested in...
Zooplomas are our free guides to buying or renting a house, giving you expert advice and information straight to your inbox.

The information and data in this article was correct at the time of publishing and every attempt is made to ensure its accuracy. However, it may now be out of date or superseded. Zoopla Ltd and its group companies make no representation or warranty of any kind regarding the content of this article and accept no responsibility or liability for any decisions made by the reader based on the information and/or data shown here.