SmartNewHomes
Developer Family Mosaic reveals how it provides shared ownership properties across London and the south east.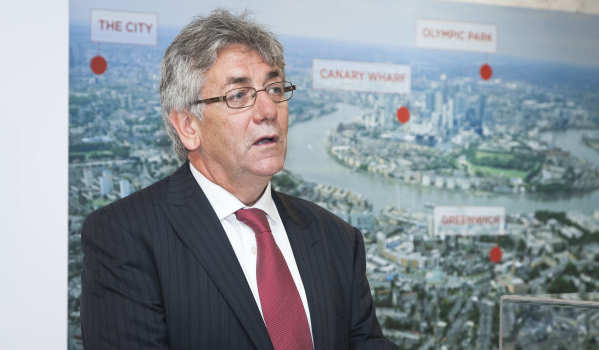 Dick Mortimer, group director of property services at Family Mosaic
---
Developer: Family Mosaic
Most popular locations for this market sector: Across London and the south east.
Price range on offer: £250,000 to more than £1m
Twitter handle: @salesfm
What do you offer this type of buyer that makes you stand out? With more than 50 years' experience of delivering high quality developments across London and the south east - including shared ownership, private sale and affordable rent - our focus is always on customers and their needs. What makes Family Mosaic stand out is our attention to detail, quality of materials, and the fit and finish of our homes. Like our customers, we have a high expectation of what we want our properties to look like, so to achieve this standard we work in close partnership with a select group of architects, designers and builders. Our exceptional track record in sustainability is central to all of our projects and we are proud to have delivered one of the first 'Code for Sustainable Homes' level 5 schemes in London.
What financial incentives are on offer? The 'rent' acts as a discounted charge on the share of the property that you don't own and this value will decrease as you purchase more shares. Your combined monthly mortgage and rent payment can work out cheaper than the mortgage payment when buying outright. Often this figure is not much more than renting on the open market.
What is your company strapline or motto? Central to the way Family Mosaic works is our 'we can' moto.
What internal features make your properties appealing to this type of buyer? Family Mosaic properties feature a high specification as standard, with integrated white goods that offer a significant saving for first-time buyers, as well as stylish layouts designed to maximise space and light.
What external features make your properties appealing to this type of buyer? We believe in offering buyers high quality homes in desirable locations. Too often, buyers in London are forced to compromise on location, so we're excited to be offering new homes across London's most enviable residential enclaves, including Shoreditch, Islington, and Lambeth.
How do you deliver quality of build? Integral to Family Mosaic's 'we can' mantra is proving that affordable doesn't have to compromise on design. In 2010, we produced a design guide in collaboration with our residents, to ensure all our properties meet the highest achievable standards.
What after sales support do you offer (as well as NHBC)? Family Mosaic has an aftercare service for all new leaseholders. During the first year in their new home, the new homes team act as a point of contact for any maintenance or other issues. After the first year, Family Mosaic's customer care line becomes their point of contact, which was placed in Britain's top fifty call centres for the past three years.
How have you changed as a developer in this sector in the last three years? Due to a changing economic climate, we have had to place greater emphasis on providing a greater range of housing - in particular private sale properties. As a non-for profit organisation, we use the profits from sales to produce affordable housing.
If you could change one thing about the new build industry what would it be? London needs around 47,000 homes per annum to meet demand – at the moment we are barely delivering half of this number and there is an even bigger shortfall in the production of affordable homes. In order for housing associations like Family Mosaic to deliver much needed homes, we need the planning process to become more regulated. We need to guarantee that every new development in the capital delivers a minimum of 35 per cent in affordable housing.
What will dominate this sector of the market in 2015? With the recent changes in Stamp Duty, first-time buyers should be feeling more confident purchasing their first property in 2015. The upcoming General Election has however brought uncertainty for both buyers and developers, and the threat of a weakening Eurozone could result in the property market slowing down.