SmartNewHomes
Interior designer Sarah Ward offers first-time buyers advice on how to get style at the right price.
March 9, 2015 16:00
Moving into your first home is exciting, exhausting and… expensive. By the time you've paid Stamp Duty, solicitors' fees plus a deposit, you're likely to have had to dig deep into your savings.
But you still need to turn that new property into a home, creating a haven to come back to at the end of a busy working day, entertain friends, and relax, rest and recuperate. That means decorating it in a way that suits your personal style.
First of all, set your decorating budget. Work out exactly what you have to spend on furnishing your new property and then shop accordingly. There are some key items to start off with that you really can't be without.
Here are my tips on what to concentrate on and how to get style at the right price.
At the end of the day…. a decent bed
We spend about a third of our lives asleep so investing in a decent bed should be top of your priorities. You'll need to be think about the design of the frame, the quality of the mattress, the style of your home, the space available in a bedroom and any storage needs.
Remember that an empty house looks very spacious and roomy, which can be deceptive. So have the measurements of your bedroom to hand when you go bed shopping. You really need decent floor space around the bed so you can walk around it, have a bedside table with a lamp and maybe a bedroom chair too.
Most of us could do with more storage, which is why I'm a fan of divan beds. Many have built-in storage drawers underneath to keep bulky items, such as ski gear, spare duvets and towels.
John Lewis has a divan set, including a mattress, which features roomy storage for £250. Furthermore, the base folds up, so it's easier to get up and downstairs when you're moving. If you'd like to make the bed a feature in the room, I think the New Divan Ottoman bed by Time4Sleep is very stylish as well as practical with built-in under bed storage. It's £329 and then you choose the mattress in a bundle deal.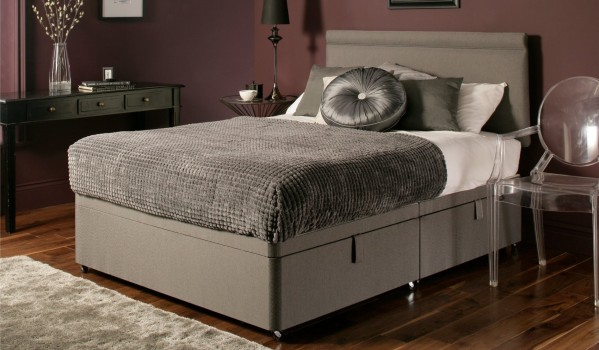 I'd always go for a neutral colour for headboards and bases – say charcoal or taupe – which opens up your decorating options (you can go for colours on your bed linen to liven things up).
A nice sit down
You're going to need a sofa too, somewhere to relax and unwind, watch TV, lie back and listen to music, or browse through books and magazines.
Think about the shape of your sofa. In a small sitting room, an L-shaped sofa makes the best use of the space available. The traditional three piece suite takes up a lot of room and wastes floor area. The word here is modular – which means that the sofa splits up into sections (and a real consideration if you need to get it on the top floor of a building or around tight corners).
The modular KIVIK sofa by IKEA strikes me as a good buy. You can buy a basic two seater sofa with an attached chaise longue for £660, upholstered in a neutral fabric. You can then add extra matching corner sections as your budget allows to grow the sofa. There is also a matching footstool for £140. That is certainly style on a budget.
I'd also go for a sofa in a darker colour. I love light covers but think they're best for loose covers which are washable. Use accessories like cushions to brighten up the look.
Oh, and measure the room before you buy. To give you a visual idea of how much space the sofa will take up, lay out newspaper to that size on the floor of the empty room so you can see how it will 'fit' in.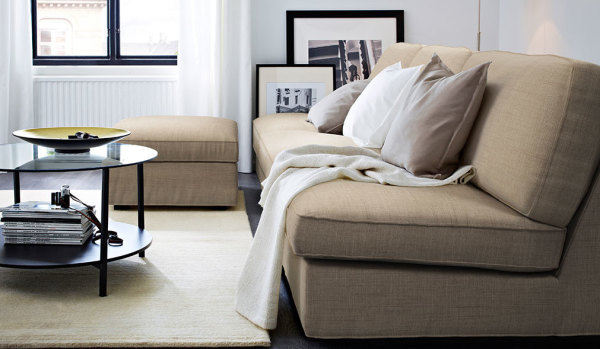 Table manners
You're also going to need a table and chairs. I'd recommend that you invest in an extendable table that can be used at minimal size for everyday and then enlarged when you have guests.
This Atherstone dining table by Harveys currently at £299 is an attractive circular shape for everyday use, then by adding the leaf you create an oval dining table to fit up to six guests. A matching pair of chairs is currently £150. Remember that your chairs can do double duty in your bedroom and sitting room as well.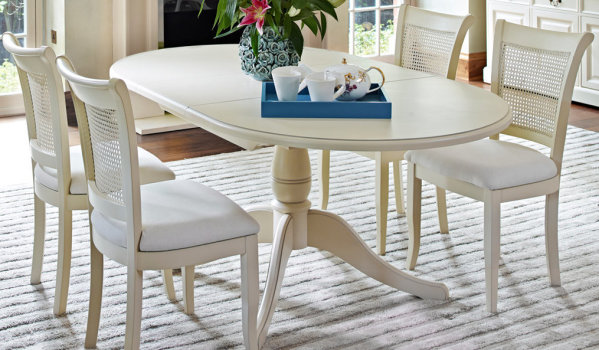 Finally, try and think of a colour scheme that works throughout your new home, which will give it 'flow' as well as allow you to use pieces in every room. I'd always go for neutrals – taupe, charcoal, grey – which you can dress up with colour pops. This also allows you to change the colours of the walls whenever you want.
Sarah Ward is an award-winning interior designer and runs Sarah Ward Associates, based in Chelsea Harbour, London.